Stupid badger!
It's been raining all day – until about 5 pm – when the sun came out and dried the garden a little. I jumped out and mowed the lawn with a little help from Jan Ove (it was quite wet and muddy and really hard work).
We went to bed quite early – it was hot and humid – when I suddenly woke up to a noise outside our window. I thought it was my dad doing something handy, so I yelled HELLO. To see a big, fury animal come out from under my parents veranda and look up towards me! Of course I couldn't sleep again – so I'm dead tired today!
This is what the large badger did! I'll win this battle – I'll just put some yucky smelling stuff they don't like under there! Hah! I win!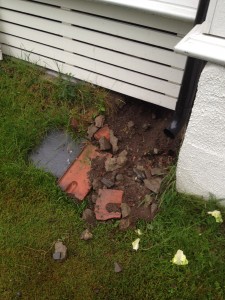 Categories: Anett and Jan Ove, Garden, General Life