Departure day!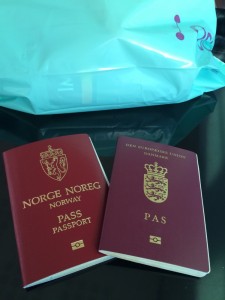 Early bird gets the worm they say, but 4 am IS very early – and we have a long day in front of us!
We were so lucky that my mum would drive us to the airport so we didn't have to park our car there for 18 days!
First wait for 2 hrs – and the flight wasn't that bad – it's just a boring 2 hrs flight to get to London. It took us 1 hr from landing till we were through the security check! So – only 2 hrs wait (and no upgrade this time) that went fast!
We had nice seats on the plane and the food was so yummy! We had:
Giant couscous and white rice with lemon dressing
North Atlantic cod with red pepper pesto, Mediterranean vegetables and tomato herb sauce
Dessert – dark chocolate mousse with butterscotch sauce
We both watch a few movies. I – Anett – rarely manage to sleep on the plane, but the 9 hrs. wasn't that bad. I got to the Mocking Jay part 1 – Imitation game and a few others that i fast forwarded (which I did with the two others as well – neither one was that good).
When we were close to arriving we got some bad weather – so instead of flying over Fort Lauderdale and Orlando – we flew over Bahamas – didn't take us that much longer and that was good – cause we thought we had a 2 hrs car ride, but it was actually 3! (bad Google – BAD!). As we landed it started raining cats and dogs, but it didn't last that long – if it had on raining we would have had a looooong car ride!
Miami airport is one of the most boring airports in the world. We've been here before so we knew, but the customs etc went smooth – and we got a Nissan (something) and headed out for our 3 hrs ride. Mind you – we had now been awake since 4 am and it was now past 8 pm! We had some nice weather for the most of the ride, but just as we got into Cape Coral we had a heavy downpour! Of course the lights were off in the house – so we ran up to the door – found the box with the key and finally got inside!
We got our bags etc from the car – had a quick tour of the house and went to sleep!