As we said yesterday, we hoped for cooler weather. Well, those that control the weather didn't listen and we got about the same temperature as yesterday. Actually it wasn't too bad when we got going cause a lot of the places we visited was air conditioned. The place we are talking about is ofcourse "Universal Studio Theme Park".
We started from the hotell at about 9 in the morning. The studio opened at 10, so should be plenty of time since we are only about 30 km away from the studio. That meant that we thought that we would have about 20-30 minutes to park and so on, but the traffic was so dense that we used almost double the time we planned. And once again, we aren't impressed with the quality of the road inside big city limits.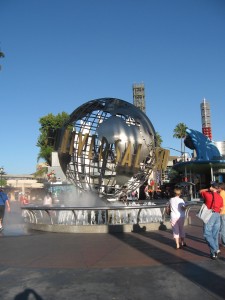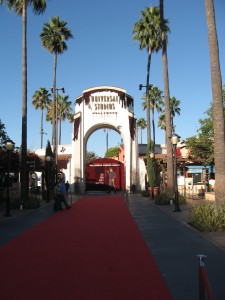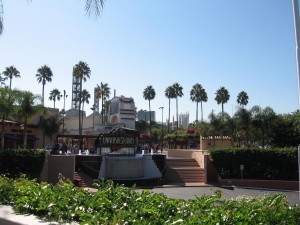 Well there we bought our tickets and since we planned on eating there we also bought a "dinner" pass. Entry is $67 and the food was $20, both per person. Hope it was worth it.
One would think that Friday morning would mean quite a lot of people, even though it is still a workday. Thinking that people might be taking an early weekend to go to the park, but that wasn't the case. It was actually really quiet when we got inside. We couldn't be happier. Nothing is better than exploring new things without stepping on other peoples feet. So we started with a little roundtrip just to see what was around.
One of the first things you see, after the obligatory souvenir shops and candy stores, is a nice board that tells you the waiting time and start time of the main attractions.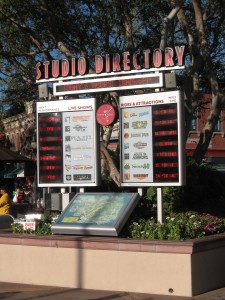 So after looking around some we started with "The Simpsons Ride" in Krustyland.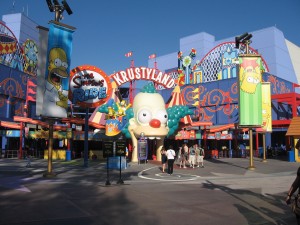 We later found out that that was the newest attraction. It was also the ride we enjoyed the most. It is a "still-rollercoaster-ride". That means that you sit in a little wagon that moves up and down as the screen infront of you changes (the screen is alll around you). So you can move around in crazy directions and speed and since you only see the screen and feel the movement on your body you get fooled. Your senses are exhausted when you are done.
As I mentioned earlier it was hot, but that didn't really matter cause the rooms where the rides were were cooled down, and all over the park were cooling stations. They are watersprays with a powerful fan that sprays the water even further. We walked past all the fans we could see.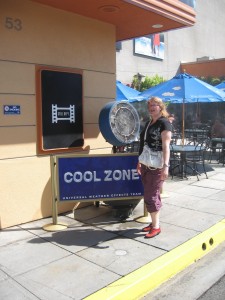 After the first ride it was time for some lunch. Remember the pass we bought in the beginning? Now it was time to get some value for that. If you don't expect a culinary experience it is perfect. Just remember that the drinks need to be payed for nevertheless.
 After the lunch we tried the rides one after the other. Shrek 4-D, ,Terminator 2:3D, Revenge of the Mummy, Special Effects, Jurassic Park and House of Horrors.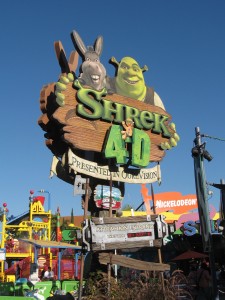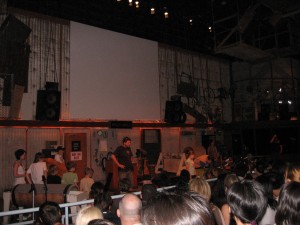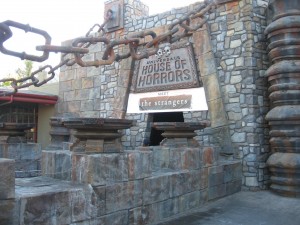 Someone got some really good scares in the last attraction, won't mention any names. Must be a fun job being the actors that gets to scare people, although they might get a punch from time to time.
Time went on and before we knew it we had been there for almost 7 hours. Time to get some dinner and buy the last souvenirs (mostly t-shirts).
The park closes at 6 in the afternoon and it was almost that when we found our way out of the park and back to the car. We were hoping that the ride back to the motel would be less crowded and go faster, but we couldn't be more wrong. All those that we had driven together with into the town in the morning was going back out of town in the afternoon. And as you can see, plenty of roads to pick from.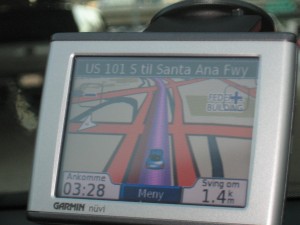 Before we got "home" we stopped by a big shoppingcenter in the hope of finding a normal store where we could buy stuff like toothpaste, fruit and other things. No luck, can't seem to find those stores at all. We begin to wonder where americans buy their ordinary stuff.
Sleeping over here one last night, then it is away again. Probably towards San Diego, but nothing planned yet. So see you next time we get access to the internet.
September 27th, 2008 at 8:03 am
Leave a Reply