Vecation is over
Hi everyone out there who follow my blog
After over 4 weeks in the US I've been busy with work and crafts stuff. I also took about 1 week to get back to normal after the jet lag (and then we changed from summer time to winter time here in Norway… which added to the jet lag mess…)
Anyway – I'm back to normal – as normal as I can be. Last weekend was spent with my crafts group and our annual ""Fall marked"". According to text message I got from our secretary it seems that we've had more visitors this year than any other year. It's nice to hear this cause we all spend quite a few hrs on getting this group going. Coming Dec 3rd we're celebrating our 30th anniversary with a nice dinner and some surprices for the rest of the members.
Oh – I must add. We also have a raffle. This year both my mum and I won stuff 😀 I won a pair of cable knitted socks – will add picture later.
I always say that a blog without picture is a blog that I don't read. I don't have any pictures yet from this last weekend as I forget my camera at home. So – to all of you who didn't read about our vecation in the US – here's a picture of myself at Key West – and US continental most southern point.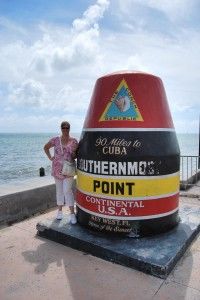 Categories: Anett, Jan Ove, USA, Vecation