Sophie Dahl
December 11, 2010
Article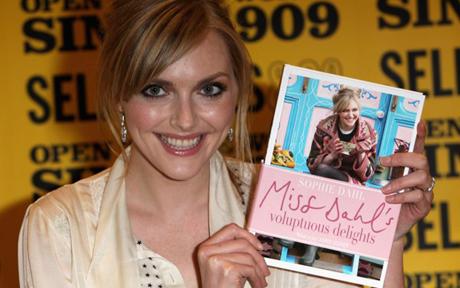 A couple of weeks ago I ordered this book by Sophie Dahl. I've watched a few of her tv shows and fell in love with her receipes. From browsing through the first pages and reading a story I can honestly say that this is my favourite cook book so far! (and I have a cook book fetish!)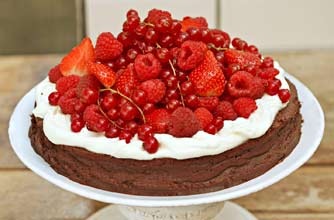 The cake is not in her book, but it looks so delicious that I have to try it out – maybe change it into a low carb – or not – then let's low carb be low carb for one day and just indulge ourselves in chocolate!
Sophie Dahl's flourless chocolate cake

Ingredients:

Butter for greasing
300g broken plain chocolate
225g caster sugar
180ml boiling water
225g salted butter, cut into cubes
6 free-range eggs, separated
1tsp instant coffee powder
1tbsp vanilla extract

To top the cake:

Raspberries, strawberries and redcurrants or blueberries and blackberries
200ml of crème fraiche

How to do it:

Grease and line the base of a solid-bottomed 23cm (9inch) round cake tin (a springform is best).
Preheat the oven to 180ºC (160ºC fan, gas mark 4).
In a large food processor, pulse the chocolate and sugar until fine. Add the boiling water, butter, egg yolks, coffee powder and vanilla extract.
In a glass bowl, whisk the egg whites until stiff and then fold them into the chocolate mixture.
Pour the mixture into the prepared cake tin and bake in the hot oven for about 45-55 mins. The top will be cracked like a desert fault line.
After you take the cake out of the oven, it will collapse into itself quite a bit. This is OK – it's not meant to be a proud cool cake, it's meant to be slightly rough around the edges and the crème fraiche and berries will hide any dips and cracks.
Let the cake cool, then put it in the fridge for a few hours. When you are ready to serve, remove from the tin, smother the top in crème fraiche, then raspberries, strawberries and redcurrants (or blueberries, blackcurrants and blackberries). You can also grate some more chocolate on top or dust some icing sugar.