Godt nytt år! Happy New Year! Hau'oli Makahiki Hou!
December 31, 2010
Article
This is the very last day of 2010 and I'm gonna summon it all up in pics to show you a bit of what happened this year.
My mum and Jan Ove both had round birthdays in April – so all of us including Sara – Jan Ove's mother – went to London. We had the most amazing weather which was nice since the winter had been long and filled with snow.
The spring/summer project this year was the green house. It was so much fun to see how fast things grow and we have all learned a thing or two about how many plants you actually DON'T need.
Summer came and went with not much happenings. There were a few days with more and warm weather and we were all complaining of course (what else is there to complain about here!).
Fall turned out to be the most fun for us. First we bought a new(er) car – and Audi A6 2.7 l Diesel – automatic (boring, but I'm starting to get used to it) – then we went to San Francisco and then Hawaii! We finally got to meet Kim and Rob – on the right in the picture (and their friend Ron) – and we had the most amazing time with our wedding being the big memory that will stick with us forever!
2010 was a nice year and we hope that 2011 will be even better! Wishing you all the best for the coming year!
Anett and Jan Ove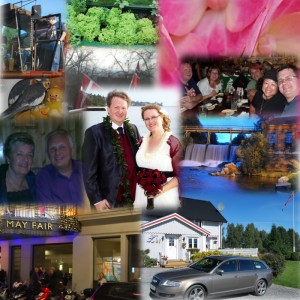 Click to enlarge
Categories: Anett, General Life, Jan Ove